Posts for tag: dentures
By Dear Doctor
February 11, 2021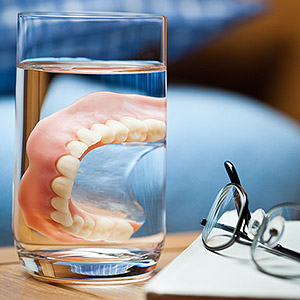 Dentures have come a long way since George Washington's time. Today, they're more comfortable, more secure and more lifelike than our first president's famous hippopotamus ivory appliance.
But one thing hasn't changed: Dentures still require regular care and cleaning. And one of the best things you can do for both your dentures and your health is to take them out at night when you go to bed.
Modern dentures are often so comfortable to wear, it's easy to forget you have them in your mouth. But setting a daily habit of taking them out when you turn in for the night will help you avoid a few potential problems.
For one, wearing dentures 24/7 can increase your risk for both oral and general diseases. Constant denture wear can cause greater accumulations of dental plaque, a thin biofilm responsible for gum disease and inflammation. The increase in bacteria could also make you more susceptible to pneumonia and other diseases.
Wearing your dentures non-stop can also worsen bone loss, a common problem associated with dentures. Normally, the biting forces generated when we chew stimulate bone growth in the jaw. A person loses much of this stimulation when they lose teeth, resulting in gradual bone loss.
Dentures can't replace this lost stimulation, and the pressure they exert on the jaw's bony ridges they rest upon can accelerate the process of bone loss. In time, any bone loss could affect the denture's fit as the bone beneath them gradually shrinks. By taking them out at night, you can help slow the pace of bone loss.
In addition to giving them and your mouth a rest at night, be sure you're also keeping your dentures clean: Take them out and rinse them off after meals and brush them with a small amount of antibacterial soap (not toothpaste) at least once a day. And don't forget to brush your gums and tongue every day with a soft toothbrush (different from your denture brush) to further reduce dental plaque.
If you would like more information on denture care, please contact us or schedule an appointment for a consultation. You can also learn more about this topic by reading the Dear Doctor magazine article "Sleeping in Dentures."
By Dear Doctor
July 23, 2020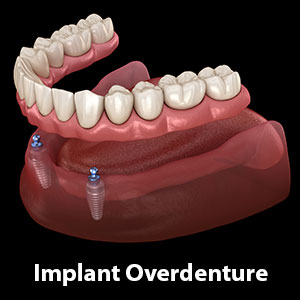 Even in the 21st Century, losing most or all of your teeth is still an unfortunate possibility. Many in this circumstance turn to dentures, as their great-grandparents did, to restore their teeth. But today's dentures are much different from those of past generations—and dental implants are a big reason why.
The basic denture is made of a gum-colored, acrylic base with artificial teeth attached. The base is precisely made to fit snugly and comfortably on the patient's individual gum and jaw structure, as the bony ridges of the gums provide the overall support for the denture.
Implants improve on this through two possible approaches. A removable denture can be fitted with a metal frame that firmly connects with implants embedded in the jaw. Alternatively, a denture can be permanently attached to implants with screws. Each way has its pros and cons, but both have two decided advantages over traditional dentures.
First, because implants rather than the gums provide their main support, implant-denture hybrids are often more secure and comfortable than traditional dentures. As a result, patients may enjoy greater confidence while eating or speaking wearing an implant-based denture.
They may also improve bone health rather than diminish it like standard dentures. This is because the forces generated when chewing and eating travel from the teeth to the jawbone and stimulate new bone cell growth to replace older cells. We lose this stimulation when we lose teeth, leading to slower bone cell replacement and eventually less overall bone volume.
Traditional dentures not only don't restore this stimulation, they can also accelerate bone loss as they rub against the bony ridges of the gums. Implants, on the other hand, can help slow or stop bone loss. The titanium in the imbedded post attracts bone cells, which then grow and adhere to the implant surface. Over time, this can increase the amount of bone attachment and help stymie any further loss.
An implant-supported denture is more expensive than a standard denture, but far less than replacing each individual tooth with an implant. If you want the affordability of dentures with the added benefits of implants, this option may be worth your consideration.
If you would like more information on implant-supported restorations, please contact us or schedule an appointment for a consultation. You can also learn more about this topic by reading the Dear Doctor magazine article "Overdentures & Fixed Dentures."
By Dear Doctor
October 16, 2017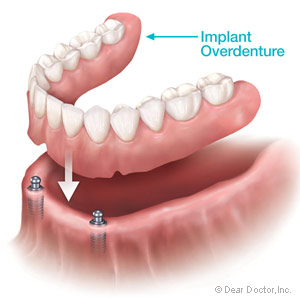 Some patients who wear dentures face a kind of Catch-22: their denture fit may have loosened and become uncomfortable over time due to continued bone loss, yet the same bone loss prevents them from obtaining dental implants, a superior tooth replacement system to dentures.
But there may be a solution to this dilemma that combines the stability of implants with a removable denture. A set of smaller diameter implants — "mini-implants" — can support a removable denture with less bone than required by a conventional implant.
Like all living tissue, bone has a life cycle: after a period of growth, the older bone dissolves and is absorbed by the body, a process known as resorption. The forces generated when we bite or chew are transmitted by the teeth to the jawbones, which stimulates new bone formation to replace the resorbed bone. When the teeth are lost, however, the stimulation is lost too; without it, resorption will eventually outpace bone growth and repair, causing the bone mass to shrink.
Removable dentures also can't supply the missing stimulation — bone loss continues as if the dentures weren't there; and due to the compressive forces of a denture, bone loss accelerates. As the jawbone structure used to originally form the denture's fit eventually shrinks, the denture becomes loose and difficult to wear. It's possible to adjust to the new jaw contours by relining the dentures with new material or creating a new set of dentures that match the current bone mass. Without adequate bone, fixed crowns or bridges anchored by conventional implants may also be out of the picture.
On the other hand, mini-implants with their smaller diameter need less bone than the traditional implant. A few strategically placed within the jaw are strong and stable enough to support a removable denture. One other advantage: these mini-implants can be installed in one visit with local anesthesia and usually without the need for incisions or stitches.
If you would like more information on dentures supported by mini-implants, please contact us or schedule an appointment for a consultation. You can also learn more about this topic by reading the Dear Doctor magazine article "The 'Great' Mini-Implant."