Posts for: December, 2020
By Dear Doctor
December 21, 2020

If we were playing word association with the term "oral hygiene," you'd probably answer "brushing." And you would be right—brushing cleans tooth surfaces of accumulated bacterial plaque, a thin biofilm most responsible for dental disease.
But brushing is only half of the oral hygiene equation: You also need to remove dental plaque between teeth where brushing can't reach. And, that requires that other practice—flossing.
Unfortunately, brushing is more popular than its hygienic sibling because many people find traditional thread flossing more difficult and messier than brushing. That can make it tempting to skip flossing—but then you're only getting half the benefit of oral hygiene for reducing the risk of tooth decay or gum disease.
There is, however, a way to floss that doesn't involve a roll of thread: oral irrigation. This form of flossing uses a countertop device that directs a pressurized spray of water between teeth through a handheld wand. The directed spray loosens and then flushes away accumulated plaque.
Oral irrigators (also known as water flossers) have been an important tool for decades in dental offices, and have been available for home use since the 1960s. In the last few years, though, the devices have become more compact and easier to use. More importantly, studies have shown they're as effective in removing between-teeth plaque as regular flossing.
These irrigation devices are especially useful for people wearing braces. The attached brackets and wires make it extremely difficult to maneuver flossing thread between teeth. Because of this (as well as similar difficulties in brushing), patients are more susceptible to dental disease while undergoing orthodontic treatment.
But a 2008 study showed that oral irrigators are quite effective for braces wearers in removing between-teeth plaque. It found those who used an irrigator after brushing removed five times the amount of plaque than those that only brushed.
Even if you're not wearing braces, you may still find an oral irrigator to be a useful flossing alternative. Speak with your dentist for recommendations on what to look for in an oral irrigator and tips on how to use it. It could make a positive difference in your dental health.
If you would like more information on how best to keep your teeth and gums clean, please contact us or schedule an appointment for a consultation. You can also learn more about this topic by reading the Dear Doctor magazine article "Cleaning Between Your Teeth."
By Dear Doctor
December 10, 2020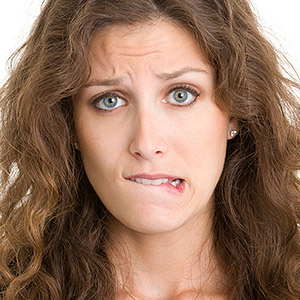 As the old Fifties song goes, "Little things mean a lot." They can also be the most irritating, like a hangnail, a papercut—or a certain kind of oral sore. Although rarely concerning to health, this particular kind of "bump" in the mouth can be unnerving.
Although known as a traumatic fibroma, it's not as dire as it sounds: It's simply a small wound created when your inside cheek gets in the "line of fire" between your teeth while biting or chewing. It's an experience most of us have had, and though it's a minor occurrence, it can make us wince with pain.
But the pain usually lasts only a few seconds—until the next time, which is a distinct possibility. The body creates a protective callous over the wound made of fibers (hence the name fibroma) of a protein called collagen. This creates a rise in the skin surface that increases the chances the area will again get in the way of the teeth and be bitten. Each bite leads to another layer of collagen, a more prominent rise and even greater probability of another bite.
Rather than let this irritating situation repeat itself, you can undergo a minor surgical procedure to remove the fibroma. Usually performed be an oral surgeon or periodontist, the area is numbed first with a local anesthetic and the fibroma removed with a scalpel; the resulting wound is then closed with a few stitches or a laser, in which case no stitches are necessary. As a result, the cheek surface flattens out and becomes less likely to get in between the teeth.
The dentist may also preserve some of the removed tissue and submit it for a biopsy to check for any cancer cells or other abnormalities. You shouldn't be concerned about this: Examining excised tissue is a routine step performed for a variety of surgical procedures. It's used to verify the tissue in question is benign, which in this case is the vast majority of the time.
After the procedure, you might experience some minor discomfort for a few days, usually manageable with a mild pain reliever like aspirin or ibuprofen. The procedure itself only takes about fifteen minutes, but it can provide you lasting relief from that bedeviling little sore in your mouth.
If you would like more information on treating mouth sores, please contact us or schedule an appointment for a consultation. You can also learn more about this topic by reading the Dear Doctor magazine article "Common Lumps and Bumps in the Mouth."