Posts for: November, 2020
By Dear Doctor
November 20, 2020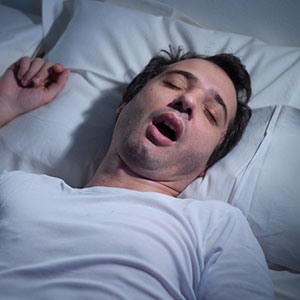 One in ten Americans has diabetes, a serious condition that may increase the development and severity of other health problems—including gum disease. Because of this latter connection, dental providers join other health professionals during November's National Diabetes Month to call attention to this chronic disease and its effect on health and well-being.
There's another health condition with a diabetes connection that isn't as well known: obstructive sleep apnea (OSA). It's also of keen interest to dental providers, as dentists are often involved in the discovery and treatment of this common sleep disorder.
OSA is the temporary blockage of the airway during sleep by the tongue or other anatomical structures. The subsequent drop in oxygen awakens the body to remove the obstruction. People with OSA may not realize they have the condition, but their bed partner can often attest to their snoring, snorting and gasping for breath during the night. Such episodes can occur several times per night, depriving the person of sufficient sleep.
Chronic OSA can contribute to the development of other health problems, among them Type 2 diabetes. It can do this first by interfering with the metabolization of glucose (blood sugar). It may also increase the body's resistance to insulin, the primary hormone regulating glucose.
Fortunately, properly managing OSA can lower your risk for diabetes, and that's where dentists may be able to help. For one thing, we dentists are often the first to notice early signs of OSA—sometimes even before our patients do.
According to the American Sleep Apnea Association, as many as 80% of the estimated 22 million Americans with OSA may not know they have it. But dentists often identify OSA indicators while examining patients: signs like an enlarged tongue or tonsils, or patients falling asleep in the exam chair. While we can't formally diagnose OSA, we often refer symptomatic patients to a sleep specialist.
Dentists also offer an alternative to the most common OSA therapy, which is continuous positive airway pressure (CPAP). This therapy employs a motorized pump that delivers pressurized air into the throat via face mask to keep the airway open during sleep. Although effective, some people find a CPAP machine noisy and uncomfortable to use.
Alternatively, dentists can provide an oral device that can often help patients with mild to moderate OSA that's worn in the mouth during sleep. Most of the various types of these appliances either reposition the lower jaw with a hinge mechanism to keep the throat open or pull the tongue away from the airway through a suction effect.
Diabetes is one part of a chain reaction that can bring unexpected challenges to your health, including to your teeth and gums. You can slow or even stop its development with proper diet, exercise and good, restful sleep. Dealing with OSA is often part of that equation—and we may be able to help.
If you would like more information about the prevention and treatment of diabetes, please contact us or schedule a consultation. To learn more, read the Dear Doctor magazine article "Oral Appliances for Sleep Apnea."
By Dear Doctor
November 10, 2020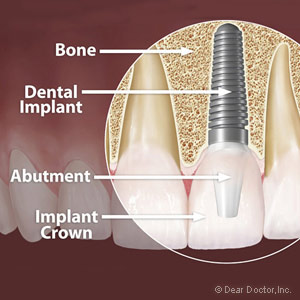 What happens when you lose a tooth? In the short-run, it can certainly undermine your appearance and ability to efficiently chew and digest food. But a chain of events could also be set in motion that may cause the most harm to your appearance and health—and it all has to do with bone loss.
Our bones aren't just rigid structures providing a frame for our bodies. They're living tissue with other purposes like producing blood cells and regulating the endocrine system. Bone tissue is constantly replenishing itself as older cells die and newer ones take their place.
In the jawbone, the pressure generated by the teeth while biting and chewing travels through the roots to stimulate the growth of new bone. If a tooth goes missing, however, the bone around the tooth also loses this growth stimulus.
This can cause normal bone growth to slow so that dying bone cells aren't sufficiently replaced. The bone may then diminish at an alarming rate—a decrease in width of about 25% in the first year after a tooth loss and several millimeters in height after only a few years.
This bone loss can continue to advance, especially if multiple teeth are lost, until the jaw structure as a whole loses significant height. The bite may then collapse, forcing the front teeth to push forward. In this state, a person may not be able to adequately bite or chew food. It can also damage their appearance—their smile suffers, of course, but their entire face may also appear shrunken.
You may be able to avoid this scenario if you replace missing teeth with dental implants. In addition to their life-likeness and durability, implants can also stop or slow bone loss. This is because titanium, the principle metal used in an implant, has a strong affinity with bone: Bone cells readily grow and attach to the titanium surface and foster new growth.
But don't wait: Bone loss could eventually extend beyond what an implant can accommodate—you may then need grafting to build up the bone or consider a different type of restoration. So, speak with your dentist as soon as possible about an implant restoration for a lost tooth to help avoid significant bone loss.
If you would like more information on how tooth loss can affect your life, please contact us or schedule an appointment for a consultation. You can also learn more about this topic by reading the Dear Doctor magazine article "The Hidden Consequences of Losing Teeth."